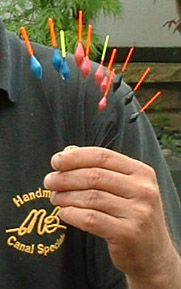 The Diamonds as of May 2012 will have the new HT Bodies, as used on my Commercial Diamonds. These are Closed cell Foam using my new HT Finish, which is so hard, that this pattern no longer needs the 2 eye system I have used for many years!
Only carbon and fiber stems available, but with three different tips and size's from 0.1gr. to 0.7gr. Which should cover everything from Bloodworm to Cat meat. The Cane and Carbon Tip patterns are available here, with all others moving to my Carp/commercial website MB Floats.
Cane Tip Diamonds: The usual baits i.e. Pinkie, Maggot, Caster, Pellet.
Carbon Tip Diamonds: Small baits i.e. Squatt and Bloodworm/Joker.
Available from:
Click relevant thumbnail below for full details:


MB Canal Specials