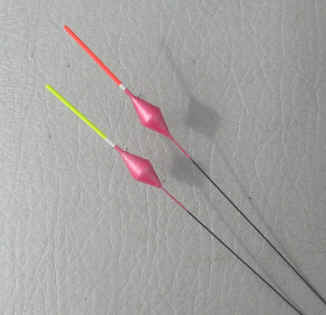 This Red pattern with it's 1mm. diameter cane tip is ideally suited for maggot or pinkies fished on the deck, when Skimmers/Bream are the quarry.
Just at home on the commercials when fishing pellet on the deck, this pattern no longer has two side eyes but have slightly longer then normal carbon stems. As with all Diamond bodies , best fished with a bulk or semi bulk rigs.
1mm. diameter cane Tip (aprox. 1.2mm when finished)
New HT (Rock hard) closed cell foam bodies.
Carbon Stem
Sizes: 5x10 0.3gr. and 0.5gr.
Available from:


MB Canal Specials